It's crunch time for Nadie and Ellis as they face up to the vital task of catching a random vulture. How will our heroines fare on this new, unexpected and entirely pointless venture?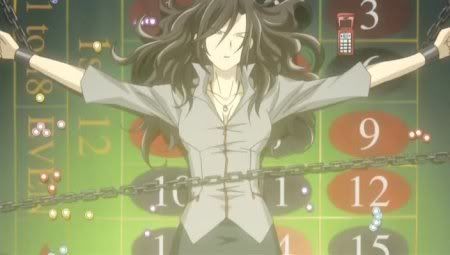 Blue-Eyes decides to indulge in a bit of casino bondage.

"…this telephone sex bondage session has been most disappointing."

"Okay, let's go again- this time with a Pleasure technique of your choice."

"You must satisfy me."

"My Liang didn't suffer at all when it was set on fire."

"Could it be that…I have no Liang!?"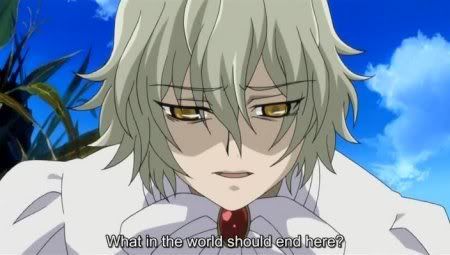 "What the hell do I do now?"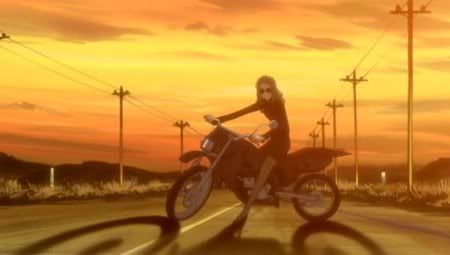 "Damn these driving levels- I'm going to keep trying until I can do this lap in under 50 seconds!"

"Sorry, but we can't accept rifles to make bets- they stretch across too many numbers."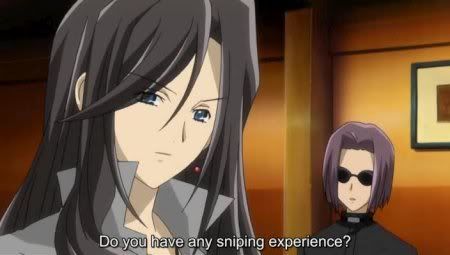 "How is your Gun ability?"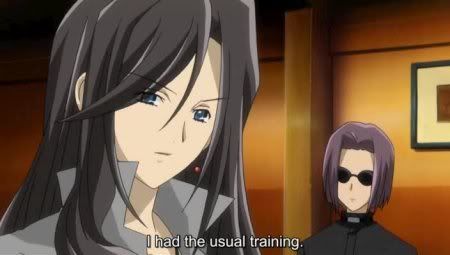 "I've been trained in all types of HARD YURI."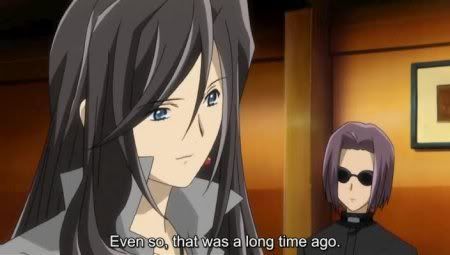 "Although that was in my wild university days."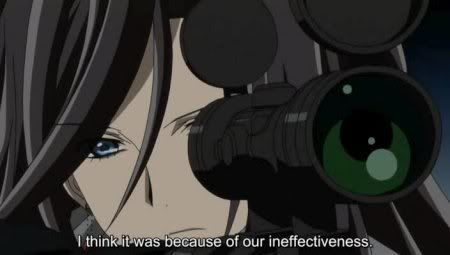 "Every week, the heroes seem to foil our inconsistent and poorly thought out plans."

"What do you mean, the director isn't in his office? I've been waiting weeks to be told my name!"

"Shall we do something kinky under this blanket?"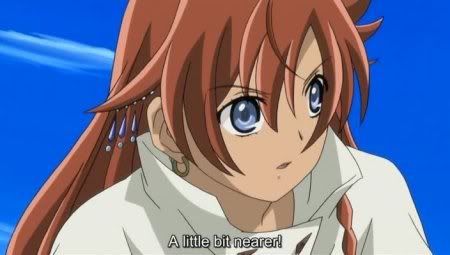 "The camera was too far away on that long shot!"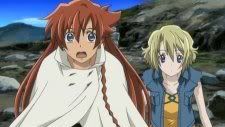 Episode twenty-one, a time for plot, a time for pushing forwards to the finale- a time for…catching random vultures.

Yep, we're all wondering that about now.

"Okay, we're on track for our obligatory cameo."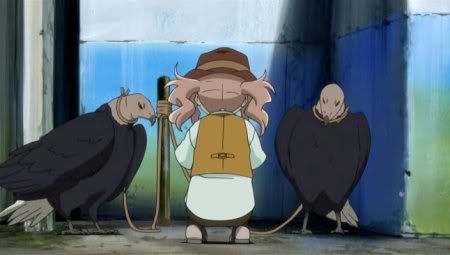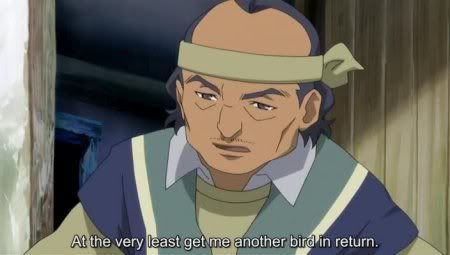 I'd like to break from parody for a moment to cover something far more hilarious than anything I might come up with. You see, this character of the week ties his birds up loosely so he can accuse passers by of setting them free and force them to compensate him. Nadie and Ellis fell for it, and so are trying to catch a replacement bird- I think this shows us all how worldly and wise the accomplished bounty hunter Nadie really is.

"What do you think of my new outfit- will I be accepted into Slytherin now?"
"I don't know- I thought this was the place to join the Men in Black."

"Anyway, enough of that- let's select the best place for HARD YURI."

"And then it's Pleasure City!"

"We're supposed to be having BI here!"

"Okay, just a quick bit of BI, then."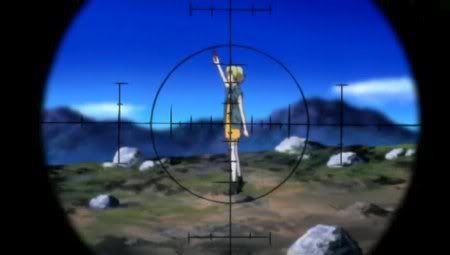 David Attenborough didn't say anything about luring vultures with half-eaten bars of chocolate.

"Hey, birds don't like chocolate!"

("Like hell I don't- I need something sweet to take away the taste of carrion!"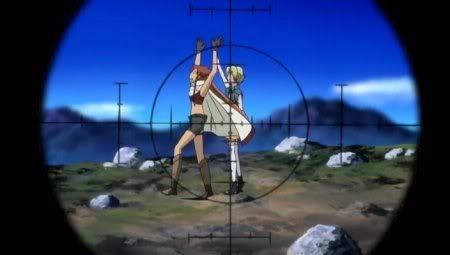 Nadie performs some sort of ritual dance.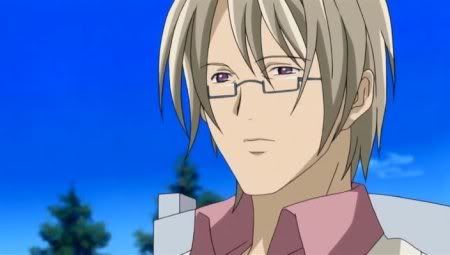 ("God, this series is so boring! When will it end?")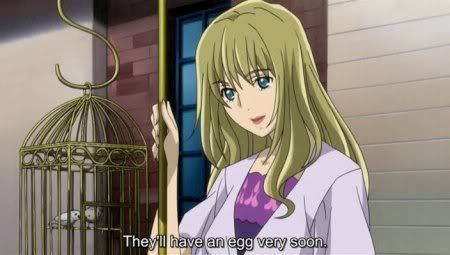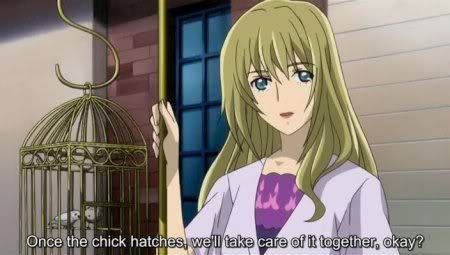 "We can even make a spin-off show called The Chick Raiser!"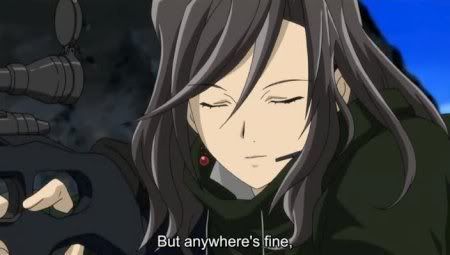 "When it comes to Pleasure, I'll do it anywhere- even this cave."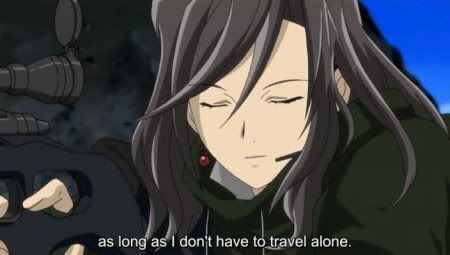 "The only thing I worry about is not finding a partner and having to resort to Hyper Self Pleasure."

"Silly Nadie, you're supposed to say 'anywhere's fine, as long as it's with you'."

Yeah, me too.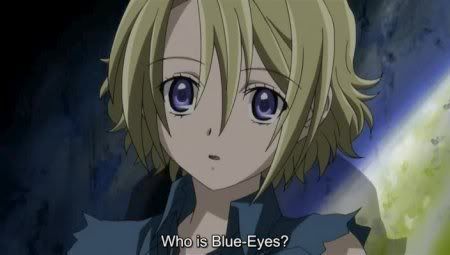 "Is she the other woman in your life?"

"It was strictly professional between us- I swear!"

"Yay, we finally caught this pointless bird!"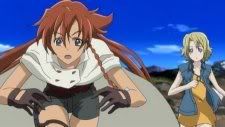 "And now it has immediately been released- this futility almost echoes the series overall, don't you think?"

Oh my god, the suspense! Is a minor supporting character really going to kill the lead five whole episodes before the finale?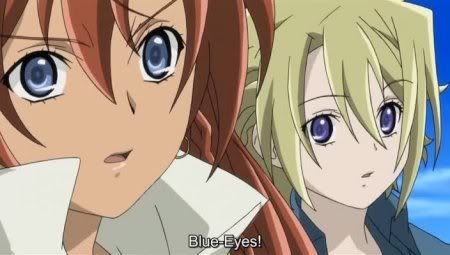 If you seriously thought it might happen, go and sit in the corner.

"There is absolutely no point trying to fight the main characters."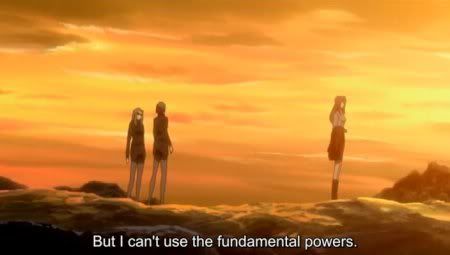 "In other words, I am useless."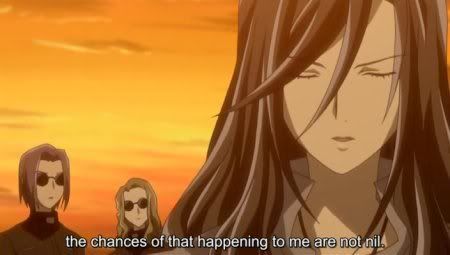 "However, maybe I can gain power far too late for it to have any bearing on the plot."

"Now I must go off on a journey of spiritual awakening- alone."

"You can't leave us- we don't even have names!"

"Boy, do I feel stupid!"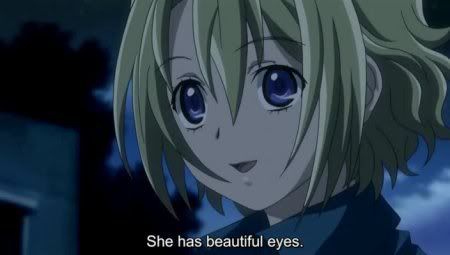 "I think I may be falling for her."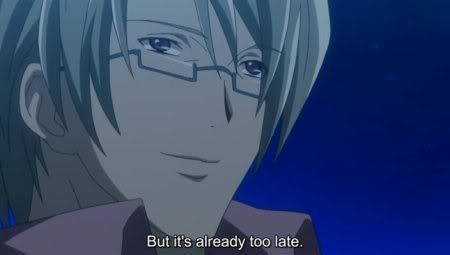 "The series can never redeem itself now."