Dragons' Den
Welcome to our regular feature based on the TV program of the same name, in which anime characters try to market their great idea to five fat cats of anime! President Aria made his fortune in the gondola industry of Neo Venezia, and is now CEO of a well-known company. Mikoto started her business in the capital of Wind Bloom, and is now a trusted advisor to the queen, with business partners scattered across the world. The Admiral's first business venture was to invest in a Chinese restaurant, but a meteor threat to Earth saw her buy shares in ground and space based defence technology, which she currently administers with her protégé "The General" (aka Shogun). Mr Tibbs started his career as a tea cat for the bank, but his sound grasp of finance saw him rise up the ranks until he became one of their most prominent managers. Finally, The Cardinal is the world's most powerful fat cat, with a wide range of business interests that ensure that he has a paw in every pie (often literally, depending on his appetite). These five cats represent some heavyweight investment clout in every sense of the word, but is any deal attractive enough to get them to roll off their backsides and shake paws with a budding entrepreneur?
The latest entrant to the Den is the mysterious Tailor, who has come to market a rather unique line of clothing.
Tailor: Hello, my name is Tailor and I represent the interests of the company who supplies Ikki Tousen, Sekirei and related series with clothing. I'm here to ask for investment in our special line of 'easy-rip' clothing. Easy rip clothes tear off at the drop of a hat, leaving the wearer clad in only their underwear.
The Admiral: We're cats- why would we be interested in clothes?
Aria: Punyu! [Well, actually I'm a collector of hats and accessories, but I prefer ones that are durable enough for a hard day's work in Neo Venezia.]
Mikoto: Likewise, I prefer outfits that can stand up to all the rolling around and eating I do in the course of a normal day.
Tailor: But trust me- once you try these clothes, you'll never want to go back!
Mikoto: Sorry, but I'm not convinced, and that's why I'm out.
Aria: Punyu! [I'm out as well].
Mr Tibbs: I'm actually rather interested to learn why the underwear doesn't rip as well.
Tailor: Well, in order to keep within broadcast regulations, we have to make the underwear out of a super-durable fabric.
Mr Tibbs: Interesting. Now, if I'm right, don't your paper-thin clothes mean that the customer has to keep buying replacements?
Tailor: Yes, that's just it!
Mr Tibbs: Well, in that case I can see massive profit potential in this venture, and I would like to make you an offer.
Tailor: Really? Well, in that case, I'd love to accept your offer.
Having impressed the hard to impress Mr Tibbs, Tailor has secured the first offer from the Dragons in while. Let's hope he puts that investment to good use for the future of crappy fanservice series.
Blade of the Immortal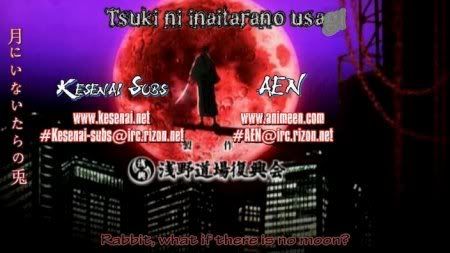 Bee Train really like their red moons, don't they?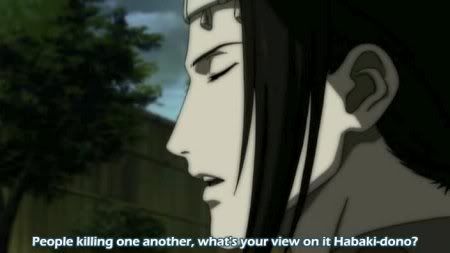 "Today's talking point: murder- right or wrong? Phone in with your views!"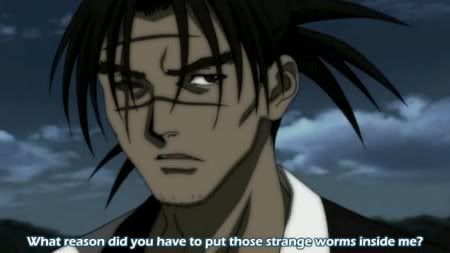 "Why did you have to make me HARD GAY?"
"You think you've got problems, but I'm a woman with a Liang!"
"But I thought we were having HARD GAY!"
I thought this was a metaphor at first until I realised it was the real deal.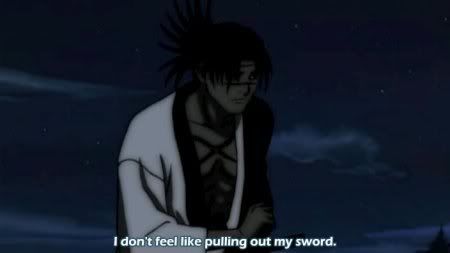 "I'm not in the mood for HARD GAY right now."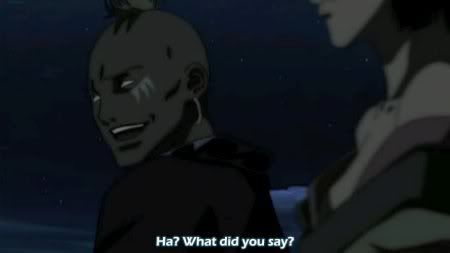 "Not in the mood?"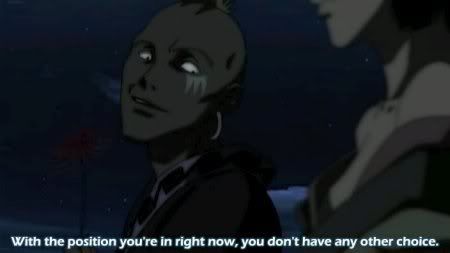 "Too bad, because you're going to be having it anyway!"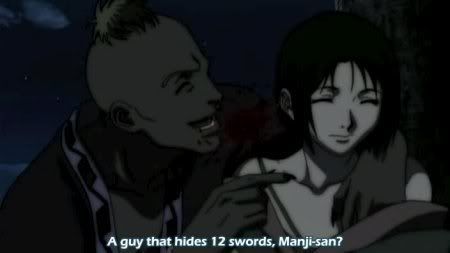 "Twelve? No man could have that many Liangs!"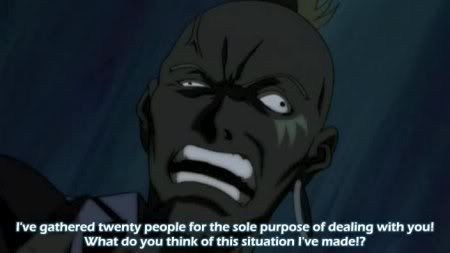 "Oh well, even twelve Liangs will be satisfied by twenty men."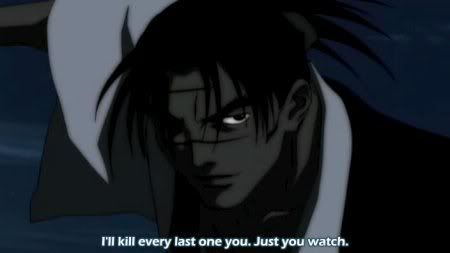 "I can promise that all of you will die of sexual exhaustion after just one night with me!"
This Week in Anime
"Must reach…giant fruit so I can present it on…Tuesday Rumble…"
There's just too much wrong with this page…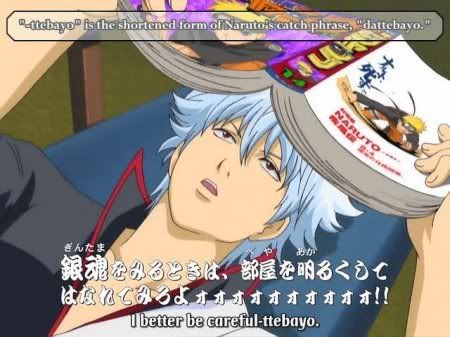 But what about narrative convention? Is it meaningless now?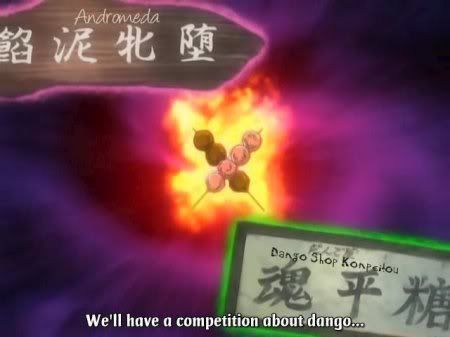 "But which is better- pink dango, or brown dango? There's only one way to find out- FIGHT!"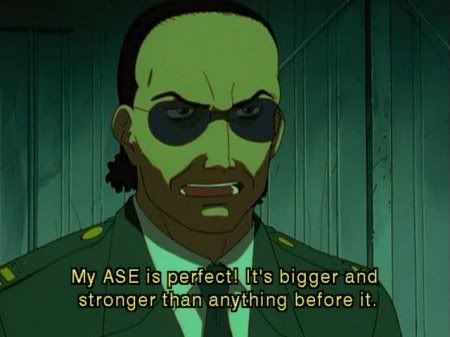 "Oh, sorry, I thought you said your arse was perfect!"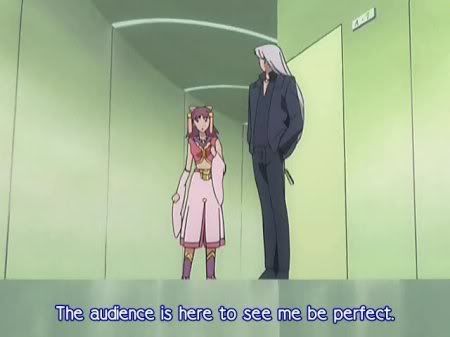 No they aren't- they're here to laugh when you fail.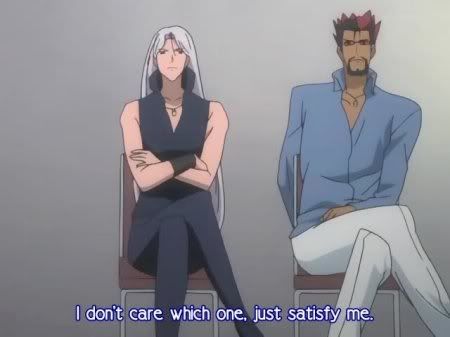 "Any man will do, as long as he has the stamina to go a few rounds in the bedroom."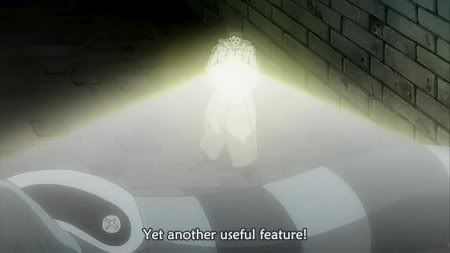 New Wang reveals their new built-in lighting add-on.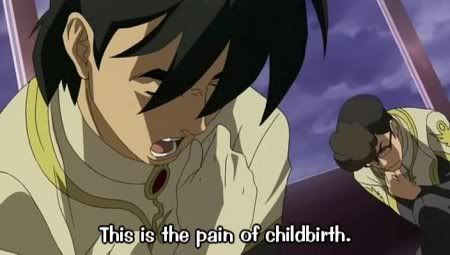 Angry mothers decide to show men just what it's like to give birth.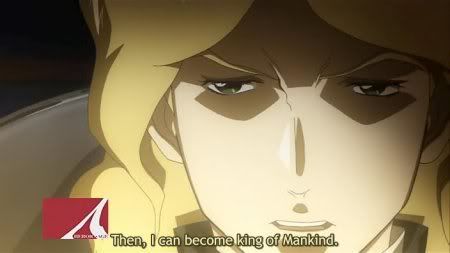 "Gwakakaka!"
Aagh, rubber duck!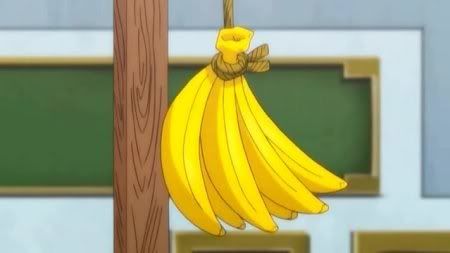 These bananas were clearly found guilty of some terrible wrongdoing.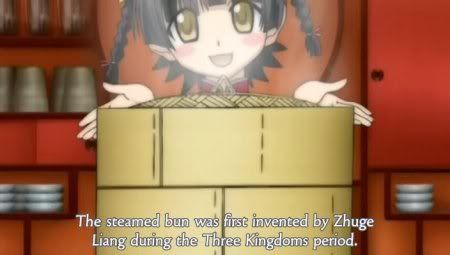 "Which is we why now say Liang and two buns."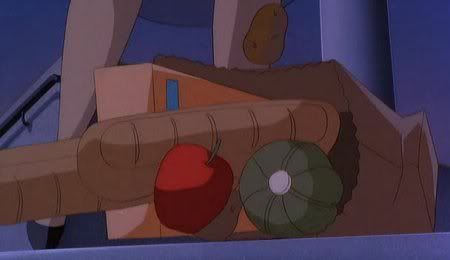 Dancing apple is caught on camera.
"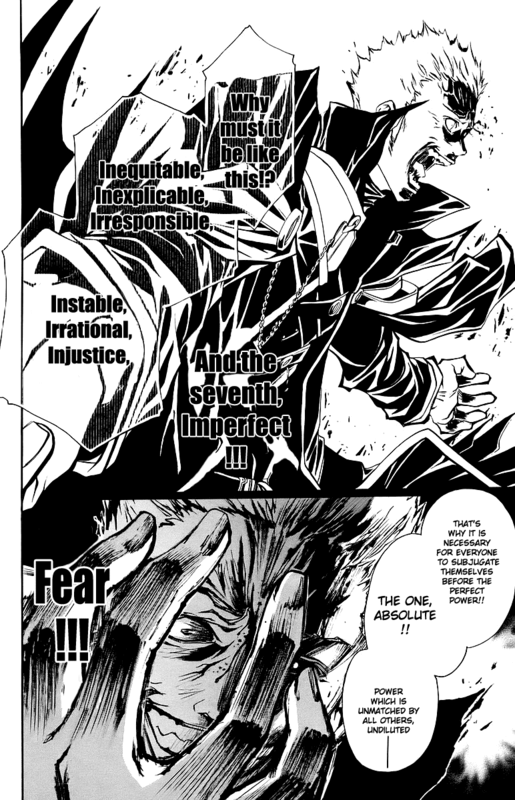 Serge will be publishing his own villain's handbook- "The Seven I's"- this autumn.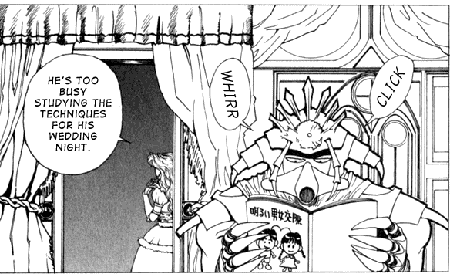 Ah, so that's the new excuse for looking at adult magazines.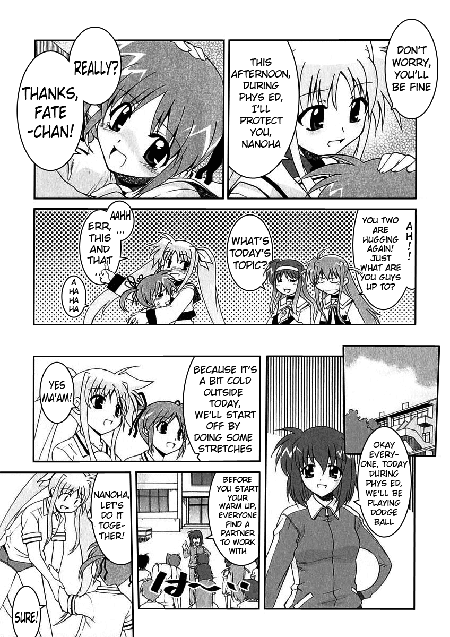 HARD YURI in action.
Flash Game Review: Crimson Room
If you like puzzles, escaping locked rooms and endless clicking, then the Crimson Room is for you! A game that requires observation and brainpower in order to ever get out, the Crimson Room is both addictive and frustrating, and once you complete it, the even harder Viridian Room awaits!
Harem of the week: Issun (Okami)
Diminutive he may be, but tiny artist Issun knew how to chat up the ladies- even if it didn't seem to result in much actual success.
Harem
Sakuya: A tree spirit whose revealing clothing makes her an instant hit with Issun.
Rao: A priestess and 'busty babe' whose assets attract Issun's attention.
Kaguya: The bamboo princess from the moon- Issun and Amaterasu rescue her from the royal palace.
Fuse: Gentle and kind leader of the Canine Warriors, although they don't always listen to her.
Himiko: Queen of Sei-An city.
Otohime: Leader of the underwater people.
Kai: A Wep'keer girl who can transform into a dog.
Lika: A young girl with the power to make the northern volcano erupt.