You can't be a villain of the fortnight without preparation- after all, who's going to take you seriously if you don't have a good back story to tell in Flashback Mode? Fortunately, the twins are more than prepared on that front, forcing Kazuki and Tokiko to stand still for over seven minutes and listen to their tragic past. They could have at least gone indoors…
From an early age, Shuushui and Oka were indoctrinated in the ways of twincest.

Mothercon was also on the schedule.

Sometimes, however, they had to wait until Mother was not so tired.

Mother died, but Father had already disappeared…what a change from the norm.

They may have been rescued from their isolation, but they could not escape the pull of twincest.

Butterfly and Moon-Face stumble upon Shuusui whilst out for some late night HARD GAY.

They decide to take him in and raise him as their whipping boy.

Moon-Face prepares for his upcoming role on a televised quiz show.

Seven minutes into the episode, and Flashback Mode finally ends.

Tokiko is upset and jealous when Kazuki defends his new lover.

Tokiko issues an ultimatum- if she can't have Kazuki to herself, then no one can have him.

Like Tidus of FFX, Kazuki just wants everything.

Kazuki invites Shuusui and Oka to join his harem.

Shuusui responds with some intense HARD GAY.

…so intense, in fact, that he physically transforms.

Oka uses Hyper Self Pleasure to restore Kazuki's HP after the HARD GAY.

Moon-Face actually looks rather terrifying in close up.

Papillon makes his obligatory appearance just after sucking on a particularly sour lemon.

Moon-Face is auditioning for a chat show.

Moon-Face and Bravo size each other up.

Moon-Face receives a call from his manager telling him not to rough himself up right before his auditions.

I'd never have guessed if he hadn't said.

Moon-Face practises a move that he hopes to incorporate into his new job.

Kazuki and Okakura swear their undying HARD GAY relationship with Shuusui.

Mahiro takes the opportunity to admit that she and Tokiko have had HARD YURI.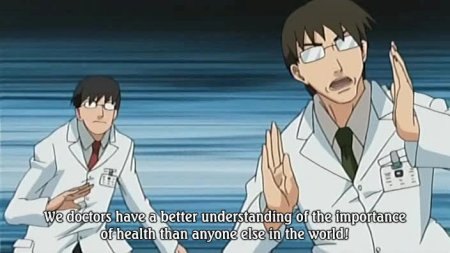 This scene is just bizarre.

Gozen is impressed at Bravo's stamina for HARD GAY.

Even Kazuki is getting in on the act today.

Yes, Angel Gozen is wetting itself…and you thought the series couldn't get any cruder.

Mokona may have 108 secret techniques, but Bravo can only aspire to a mere thirteen.

Bravo recalls how Shuusui left to practise HARD GAY elsewhere.

Nonetheless, he isn't about to let a prospective partner get out of contact.

Kazuki is delighted to receive a letter instructing him to add Oka to his harem.

Next episode: Futakoi Alternative rejects attack the school.