Masahiro and Guren run to the next encounter area. As they get there, they are joined by Seiryu, Pigtails and Rikugou.
Masahiro: Thanks for joining my party, Seiryu- now I can hide behind you and earn some EXP.
Seiryu: You may be the main character, but whilst you are still Level Two, you do not even deserve to utter my name.
Masahiro: Whatever…just clear a path for me so that I can rescue Akiko and get all the credit.
Guren: Masahiro, just worrying about gaining EXP for now. Akiko is a named OP character, she won't come to any harm.
Shun appears.
Shun: Gwakaka, that's right! Let's string out this pointless fight a little longer! Purple Arrows!
Masahiro: Hurry, Guren, my Defence stat is too low to withstand that attack!
Guren picks up Masahiro and dodges the attack.
Shun: Gwakaka, now cower in fear as I stand motionless and watch you attack my underlings!
Guren: Equip Spear of Flame!
Guren attacks and kills a minor demon, but Seiryu is not impressed.
Seiryu: What's wrong, Guren? Is your stamina getting low?
Masahiro: I should fight too! Activate defensive barrier to defend against this small, low-level monster!
Masahiro repels the monster.
Masahiro: I'm better than I thought…Activate Defensive Tear! Target: Shun!
Shun: You fool! Ring Defender!
Masahiro's attack is nullified.
Shun: Your attacks are useless against me! That's why I must sit here and wait for you to get strong enough to defeat me!
Another minor demon targets Masahiro.
(Masahiro: Damn, there's no way I can fight this. Where's Guren?)
Rikugou: Spear Toss!
Rikugou defeats the demon.
Masahiro: Input Spell-
Seiryu shoves him out of the way.
Seiryu: Shut up and get into the back row where you belong. Honestly, I can't believe a Level Two wimp like you is the main character!
Seiryu prepares an attack.
Seiryu: Jealousy and Lack of Screentime Attack!
Seiryu vaporises all the monsters.
Seiryu: See? That's how a real main character would do it.
Masahiro: Seiryu, could you please stop picking on me? All I want to do is stand here in safety and target the boss with long range attacks whilst all of you protect me, okay? Now let's try again- Input Spell Command!

Guren, Pigtails, Seiryu and Rikugou fight minor demons whilst Masahiro chants his spell.
Masahiro: Cast! White Light Arrow!
Masahiro fires his spell at Shun.
Shun: Ring Defender!
The spell is nullified and Masahiro takes damage.
Guren: Masahiro! Your HP is down to 12!
Seiryu: Like I said, that Level Two wimp is too useless to be the lead.
Guren: Watch it, Seiryu- only I am allowed to call Masahiro useless!
Guren rushes over to Masahiro, who seems to be falling unconscious.
Guren: Masahiro! Wake up, Masahiro! Oh no, he's falling into Flashback Mode.
Masahiro remembers a time when he was young and Seimei was talking to him.
Young Masahiro: Grandfather, what should I do if the girl I like has been kidnapped by minor demons and I'm fighting to rescue her but I can't cast a spell properly?
Seimei: Well, just in case that happens in the future, I'll tell you what to do now.
Masahiro wakes up with his grandfather's advice in mind.
Masahiro: Okay, everyone, just stand still and do nothing whilst I cast a lengthy summon spell! I summon Takaokami!
After a long summon animation, Takaokami (the Kifune dragon god) appears and incinerates the minor demons, Shun tries to fly away but is caught in the attack.
Shun: NOOOOOOOOOOOOOO!!!!
Masahiro collapses, his stamina bar empty.
Guren: See, Seiryu? He has the usual inexplicably high latent power of any lead character.
Masahiro stirs and runs over to Akiko.
Masahiro: Akiko, we made it just in time to rescue you! Isn't that remarkably convenient?
Gaku arrives.
Gaku: Gwakaka…you may have defeated Shun, but did you forget about me? Commence Battle Phase 2! Purple Cutter!
Guren dodges.
Gaku: Purple Arrows!
Guren: Flame Defender!
Guren's flames nullify Gaku's attack and burn him.
Guren: Flaming Slice!
Gaku: Aaagh! Why does it hurt so much now when I was easily able to evade you just two episodes ago?
Whilst Gaku is easily defeated, Akiko stabs Masahiro. Meanwhile, Seimei finally finishes exorcising Keiko.
Seimei: Well, that conveniently kept me occupied for half the episode.
Back at the temple…
Masahiro: Delayed Reaction!
Masahiro falls backwards due to the stabbing.
Gaku: You fools! I may as well use the last of my life energy to explain that the girl was being controlled- just in case you hadn't already figured it out!
Gaku vanishes.
(Guren: No, this can't be right…if Masahiro dies, I might lose all my screentime!)
Guren: RAGING HARD-ON!
Guren breaks the sealing ring around his head as his flame powers consume everything around him. Seimei arrives.
Seimei: His pent-up frustration is being released…only my special brand of HARD GAY can calm him now.
As Seimei starts summoning his HARD GAY, Masahiro wakes up and pulls out the knife; despite the blood loss this causes, he somehow remains conscious.
Masahiro: Guren, you don't have to get so upset…I'm still alive. We can still be HARD GAY together!
(Seimei: I don't know whether to be happy or sad…my grandson is alive, but that means my chances of becoming the main character are slipping away.)
Masahiro: I cast Japanese Yew Scent!
Masahiro waves around the scent from the bag before passing out again. Meanwhile, Guren is trapped in an illusion of darkness.
(Guren: That's right, this is how it is…my HARD GAY is so intense that I must stay away from everyone or risk destroying them.)
As the scent of Japanese yew penetrates the darkness, Guren sees Masahiro.
Masahiro: Guren, what are you doing here? You can't be HARD GAY all by yourself.
Guren transforms back into Mokkun as Masahiro carries him out.
(Guren: I can't seem to resist the will of the main character…but I must!)
Masahiro: Mokkun, you're so warm and soft…
Mokkun worms his way out of Masahiro's arms.
Mokkun: I'm not some plushie you can hug at night! I'm a fierce and cold existence whose intense HARD GAY hurts anyone who gets too close to me!
Masahiro: Don't be silly, Mokkun, you're soft and huggable! Besides, I'm the main character- your HARD GAY can't possibly hurt me.
Back in the real world, the flames dissipate to reveal a sleeping Mokkun. Seimei moves over to Masahiro.
(Seimei: I'd better gain audience sympathy by pretending to sacrifice my life for Masahiro- if it fails, I can legitimately become the lead!)
Seimei: Energy transfer!
Seiryu: Seimei, you can't!
Kifune God: Deus ex machina!
The dragon god that Masahiro summoned appears.
Kifune God: I am conveniently here to use my Heal All power to save Masahiro's life and thus ensure that the series can continue.
(Seimei: Damn.)
The dragon god heals Masahiro before disappearing. Masahiro awakens.
Masahiro: My HP has been restored- and at long last I've earned enough EXP to reach Level Three! Don't worry, though, Mokkun, I'll keep you around until I reach at least Level Ten.
Seimei: Well, all's well that ends well. Let's get home to tie up all those annoying loose ends that are better handled offscreen.
In his lair, Kyuuki chews on a minor demon.
Kyuuki: So, Gaku and Shun were defeated, but no matter! Everything is going to plan!
The next day, Akiko apologises to Masahiro.
Akiko: I'm sorry for stabbing you, Masahiro.
Masahiro: Don't worry about it- I'm the main character so I knew I would survive. Besides, it's not your fault- it's those evil foreign demons.
Mokkun: Actually, it's the fault of that useless Level Three onmyouji who came to rescue you whilst Seimei and more powerful Spirit Summons stood around and did nothing. Masahiro, you need a training arc.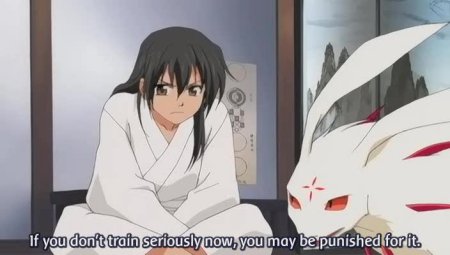 Akiko: Ah, that reminds me…here, take this bag of scent, it might be as important to the plot as the last one was.
Masahiro: I'm not sure if the writers will use that plot device twice, but thanks anyway.
To be continued…