Yumi and Sachiko are back, and that can only mean one thing- HARD YURI. Unfortunately, Yumi's visions of a tranquil summer with her lover onee-sama are shattered by an Evil Lesbian Trio- can our heroine triumph over these generic and ultimately minor villains of insignificance? I think the question answers itself, really…

"I thought you'd never ask."

Yumi's relationship with Sachiko is characterised by jealousy and paranoia.

Sachiko mistakes Yumi's question as a desire for a threesome.

"You're all I need."

"You're the only one I want HARD YURI with!"

Some may argue that adding captions is a case of gilding the lily.

There is disappointment for Yumi when she learns she won't be sleeping with Onee-sama.

Poor Yumi, is her love really reciprocated?

Sachiko may only want her for kinky sex.

"Yumi, you can climb in with me once you take all your clothes off."

Yumi is transfixed by the sight of her Onee-sama in bed.

No matter how much she gets, Yumi is always ready for more.

"It was wrong but it felt so right."

Kashiwagi, there is no place for men in this series.

The evil lesbians arrive.

Touko explains that the evil lesbians are, in fact, evil.

Still, Yumi will endure anything to be by Sachiko's side.

The angst phase of the story begins with an outburst of jealousy.

"…and after all, I am the main character, so why should anyone else get Onee-sama?"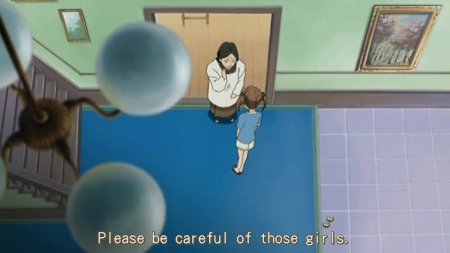 "Watch out for the evil lesbians; I don't know if you've heard, but they are evil."

"Why does no one accept our love?"

"Although I am always scolding you, correcting you, misunderstanding your feelings and generally making you feel awkward, I hope you will still love me."

"Even if you beat me and use me as a sex toy, I will always love you."

Rei explains the dangers of group HARD YURI.

Touko is interested in Yumi's preferences.

Poor Grandma, forced to become a static and unmoving character because of the actions of her family.

The evil lesbians are shocked when Yumi foils their plot.

"Damn, she beat us."

Even Grandma's heart is thawed by the power of Tohru Yumi.

"Ah, the good old days, when HARD YURI was simple and straightforward…"

"Your entire holiday has been dull and monotonous, so why don't we do something interesting tomorrow?"
"No thanks, let's just have another boring day at home."

"As long as I can sleep with you, nothing else matters."