Most men are content to accept that their HARD GAY will never be as good as Robespierre, but for Dashwood, second place will never be enough. Determined to prove himself the ultimate man of HARD GAY, Dashwood equips his Staff and initiates turn-based combat- but can he really hope to match Robespierre's Book?

"Come, my generic hooded minions, the time has come to show the world the force of our HARD GAY."

Dashwood demonstrates the power of his HARD GAY.

Robespierre and Giuseppe idle away the time until they are due to appear on set.

"Here's a little token of my appreciation for the HARD GAY you have given me."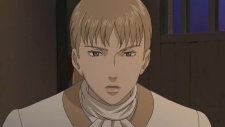 "D'Eon, since when have you started wearing lipstick?"

"I can't believe you spent our budget on make-up!"

("By the way, would you mind telling me where you got it from? I just love that shade of pink.")

"Are you my next partner?"

"I hardly consider that sort of thing appropriate."

"I have some documents here sent by a Mr. Robespierre…oh my, what shocking techniques he describes."

"I can't wait to give those techniques a try."

"Why, d'Eon, what a fetching shade of lipstick! You must tell me where you get it from."

"Now, have you considered my request for HARD YURI? After all, you can't expect me to believe that a man would wear lipstick like that."

Charlotte asks Robin and Teillagory if they wouldn't mind her borrowing d'Eon for a night or two.

Teillagory ponders the advantages of turning BI.

"Well then, it's a date…and I've even prepared a little something to keep your friends occupied."

"Once I found out he was a main character, I arranged for his release immediately."

"I may have a lost an arm in that incident with Whitehead, but I assure you that my HARD GAY has not suffered for it."

"Here, give me a 'sword' and I'll show you I'm just as adept as ever."

"Ah, it feels good to be holding a proper 'sword' again- they only let me have generics in prison."

"Damn, I must think of a way to get some screen time before this arc is over."

"Dashwood and generics vs. Robespierre, Giuseppe and Lorenza- let battle mode commence!"

"I equip the legendary book of HARD GAY."

"I equip the H.O.M.O. Staff!"

The generics reveal themselves to be Mulians from RahXephon.

Robespierre Turn 1: Power Up Book!

Dashwood Turn 1: Power Up Staff!

"Oh great, I suppose this is going to be one of those battles where both sides power up but never actually attack."

Robespierre Turn 2: Power Up Book!

Dashwood Turn 2: Power Up Staff!

"If that's how you're going to play it, I'll use this turn to Power Up Book!"

"Can we go home yet?"

"Book is the most powerful weapon of them all- so powerful, in fact, that it can turn me upside down."

"Book is nothing compared to Staff!"

"Let's cease this meaningless posturing and get on with battle! I cast Purple Words of Doom!"

"Hey, wait a moment, I wasn't finished powering up my book yet!"

"…however, if you insist, I counter with Defensive Spell- Land of Wang!"

"We're in the middle of battle- if I don't have a Flashback Illusion Mode now, when am I going to have it?"

Robespierre recalls how the loss of Lia turned him to the path of HARD GAY.

"What's this? Did my spell fail?"

"Gwakaka! Even the mighty Robespierre cannot withstand the force of my HARD GAY!"

Lorenza steps in to counter Dashwood's HARD GAY with some HARD YURI.

"Materialise!"

"It's no good- the force of HARD YURI is no match for HARD GAY!"

Everyone reaches into their trousers to ensure that their 'weapons' are intact.

"My HARD GAY will surpass all!"

"I'll even fight the lead if it means I can get more screen time!"

Paralyse Status is inflicted on Robespierre.

"Oh no, it could be game over any moment!"

"Everyone stand and do nothing as I cast my final attack- Divine Comedy!"

"NOOOOOOOOOOOOOOOOOOOOOO!!!!!!!!!!!!"

"I just sensed a shift in the balance of the HARD GAY Force."

For his victory in battle, Dashwood gains the Key Item Book.

"I cannot die- history will not allow it! I must lead the Revolution!"

Lia-d'Eon is somehow able to cry tears of blood.