Our heroes may have reunited, but what kind of liaisons will await them? Who will succumb to the charms of HARD GAY and HARD YURI, and who is holding out for the elusive yet satisfying world of BI?

Sa Chuushou is still gloating in his room, unaware that the plot is passing him by.

Shuurei tries to argue that she was only in bed to sleep, not to indulge in any late night activities.

Kourin sends Eigetsu away so that she can enjoy some long-awaited HARD YURI with Shuurei.

The HARD YURI just isn't as good as it used to be.

Nonetheless, after a lot of effort and some dressing up, Shuurei is satisfied with the final result.

Ensei introduces his new lover.

Kokujun is still pessimistic about his HARD GAY abilities.

Sai Shou explains the principles he adheres to in the bedroom- never go all out with your lover in case you need some left for later.

"I guess if you're aspiring to a harem, it's not a bad way to approach each lover."

"In return for our help, we will need HARD GAY."

"Be sure to have enough young men ready to satisfy us."

"It will take a lot of HARD GAY to pay back a debt like that."

Delta Server Mac Anu: SaiMono version.

Ryuuren is told that there are no spare lovers for him.

"Damn, I was hoping for more screen time."

Ryuuren admits that he is very choosy about his lovers.

"Perhaps I should call it something else, like HARD YURI."

Kourin recalls how Eiki told her that Sa Enjun was HARD GAY.

"There's HARD GAY, HARD YURI, BI and something called STRAIGHT, but you don't need to worry about that last one."

Tei Yuushun learns that Sakujun is not just HARD GAY, but BI.

"Why won't you join me in some kinky HARD GAY games?"

"I don't have time."

"Well, no matter, for I have discovered women."

"It took many years, but I have finally become BI."

Sakujun remains determined to add Shuurei to his harem.

Kokujun fears that Sakujun will infect them all with his BI ways.

Few men can survive Reishin's special brand of HARD GAY.

Seiran decides to subtly probe Shuurei's feelings for him.

Shuurei assumes that Seiran is HARD GAY for Sakujun.

Seiran argues that Sakujun is too deadly a partner for him.
Seiran confesses that he is actually BI.

A belligerent wall tries to start a fight with Seiran.

Seiran respects the wall, but is not about to let it win.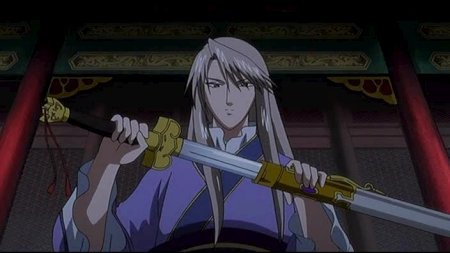 Ryuuki inspects his 'sword'.